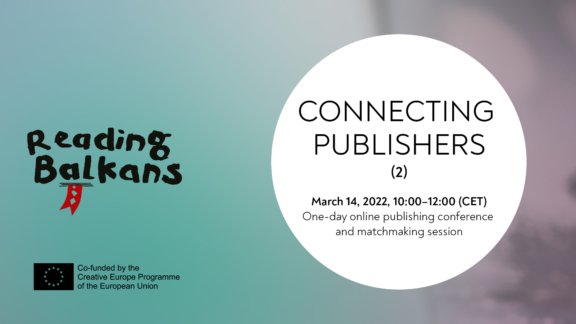 Reading Balkans: Connecting Publishers (2)
One-day online publishing conference and matchmaking session
March 14, 2022, 10:00–12:00 (CEST)
Registration required (MS Teams)
meet select editors and authors from Southeast Europe • discover insights by publishing professionals • find partners
Goga Publishing invites you to the second Reading Balkans virtual networking meeting with a dedicated matchmaking session. The event, highlighting some of the best publishers from Southeast Europe, will help international publishing professionals get better acquiainted with authors from Southeast Europe, understand the publishing landscape, and find new partners.
About the conference
Following on the success of the first Rading Balkans: Connecting Publishers conference, the second edition will continue to promote the resilience and recovery of the publishing sector, help professionals meet their counterparts, and make authors from the Southeast Europe more visible. The event, promoting transnational circulation of literary works, will be an opportunity for discovery and exchange of ideas. Especially with the currently open calls for proposals within the Creative Europe Programme, the meeting will help publishers forge new partnerships.
What to expect
The event will consist of three parts:
short talks by publishing professionals
publishers' introductions
matchmaking
During the first part, invited writers and publishing professionals will discuss the reasons for, as well as the specifics of, translating authors from Southeast Europe and share their insights. Speakers include:
Velibor Ćolić (France/Bosnia and Herzegovina)
Marko Pogačar (Croatia)
Dinko Kreho (Croatia)
Vladimir Jankovski (North Macedonia)
Mateja Lazar (Slovenia)
In the second part, select publishers will introduce their programs. Speakers include:
Vladislav Bajac (Geopoetika, Serbia)
Biljana Crvenkovska (Strange Forest Publishing, North Macedonia)
Maja Šučur (LUD Literatura, Slovenia)
Marija Dragnić (Enklava, Serbia)
The third part will offer matchmaking opportunities for quick one-on-one sessions.
About Reading Balkans
Reading Balkans, co-funded by the Creative Europe Programme of the European Union, promotes authors from the Southeast Europe, strengthens cooperation between publishing professionals from Southeast Europe and their international counterparts, and fosters writers' cross-border mobility. The project emphasises the importance of cross-cultural dialogue to fight nationalism and intolerance.
The project's residency programme is a cooperation of Goga Publishing (SI), Goten Publishing (MK), Udruženje Krokodil (SRB), Udruga Kurs (CRO), Poeteka (AL), Qendra Multimedia (Kosovo), PEN Centre (BIH), Traduki, and other partners.
Reading Balkans: Makes translations happen!
#CreativeEurope4Books