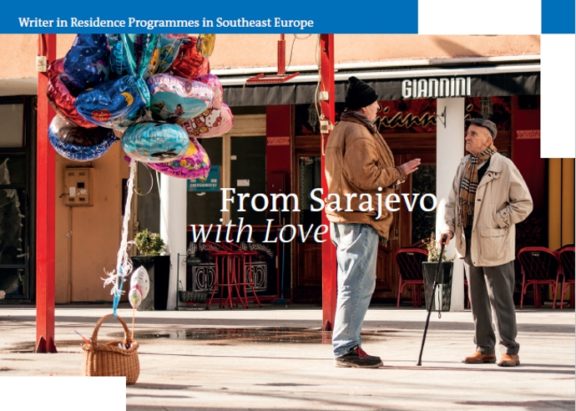 Objavljen razpis za rezidenco v Sarajevu
European Residence Programme for Writers and Literary Translators
Sarajevo
CALL FOR APPLICATION
for Authors and Translators from South East Europe
The TRADUKI literary network and the PEN Centre in Bosnia-Herzegovina   are inviting you for the application-process for the European Residence Programme for Writers and Literary Translators. The idea behind the programme is to enable writers and translators to work intensely on their manuscripts for one month, to get acquainted with the social and literary circumstances in Bosnia and Herzegovina, while at the same time promoting literature and the work of the visiting translators to the local audience in Sarajevo.
Writers and literary translators from the following southeast European countries: Albania, Bulgaria, Montenegro, Croatia, Kosovo, Macedonia, Romania, Serbia and Slovenia  are invited to submit their applications no later than December 31st, 2016. Translators translating into the languages of the afore-mentioned states, or vice versa, are eligible. The residence stay includes covered costs for accommodation in the city of Sarajevo in the duration of one month, travelling expenses and a scholarship in the amount of EUR 800.
The application (in Bosnian/Croatian/Serbian/Montenegrin, English or German) must contain the following:
– CV, with contact data and a proposal for the month of residence in 2017
– Bibliography
– A short description of planned activities in Sarajevo
– Letter of recommendation (from a publisher/writers' association/association of translators, PEN center, etc.)
Please send your complete application documents via mail to email addresses:
stojic@traduki.eu, amela.balic@hotmail.com and pencentar@bih.net.ba.
All applicants will be notified via mail no later than January 31st, 2017. 
**********************************************************************
Evropski rezidencijalni program za književnike/ice i književne prevoditelje/ice
Sarajevo
K O N K U R S
P.E.N. Centar u Bosni i Hercegovini u saradnji sa književnom mrežom TRADUKI nastavlja Evropski rezidencijalni program za književnike/ice i književne prevoditelje/ice u 2017. godini. Ideja programa jeste autorima/cama i prevoditeljima/cama pružiti mogućnost da mjesec dana intenzivno rade na svojim rukopisima, da se upoznaju sa društvenim i književnim prilikama u Bosni i Hercegovini, a da se istodobno književnost i prevoditeljski rad gostiju promoviraju kod bosanskohercegovačke publike.
Pozivaju se književnici/ce i prevoditelji/ce iz Slovenije, Albanije, Bugarske, Crne Gore, Hrvatske, Kosova, Makedonije, Rumunije i Srbije da se do 31. decembra/prosinca 2016. prijave na konkurs. Prijaviti se mogu prevoditelji/ce koji/e prevode književna djela sa bosanskog/hrvatskog/srpskog/crnogorskog na jezike navedenih država, ili obratno.
Gostujući književnik/ica, tj. prevoditelj/ica koristi vrijeme stipendije za svoj rad i upoznavanje sa književnim i kulturnim životom Sarajeva, te predstavljanje pisca kulturnoj javnosti. Rezidencijalni boravak uključuje pokrivanje troškova jednomjesečnog smještaja, putnih troškova i stipendiju u visini od 800 EUR.
Prijava (na bosanskom/hrvatskom/srpskom/crnogorskom, engleskom ili njemačkom jeziku) treba sadržavati:
 – biografiju kandidata
 – kontakt podatke
 – bibliografiju
 – kratak opis planiranog rada u Sarajevu
– pismo preporuke (društva pisaca/društva prevoditelja/PEN centra i sl.)
Prijave na konkurs slati isključivo putem e-maila na adrese pencentar@bih.net.ba, amela.balic@hotmail.com i stojic@traduki.eu.
Odabir književnika/ce tj. prevoditelja/ce vrši komisija rezidencijalnog programa. Svi kandidati bit će obaviješteni putem maila do 31. januara/siječnja 2017.